Can creative's color or price placement affect application cost per install? With the Aitarget Tech platform this and other hypotheses were tested for Joom — a global mobile marketplace specialising in cross-boarder e-commerce. We share the results and explain the approach of process automation.
The goal is to cut CPI
Joom — cross-platform application for shopping in Europe and Asia. The majority of users make purchases with mobile devices, so Joom's main goal was to increase click-through rate with the help of creatives in dynamic advertising and minimize application cost per install for new users.
The key challenges for testing are creatives localization for multiple geographics when working with multi million feeds and organization of fast creatives development. Aitarget Tech helped to deal with these issues.
Aitarget Tech allows to test static creatives in dynamic advertising. You can test static elements such as unique selling proposition, call to action, promo codes, price tags and dynamic ones that are collected from product feed, for example, price values, discounts, product cards.
The placement, color and shape of every element can be tested. With Aitarget Tech branded templates are automatically applied to all SKUs in selected product sets.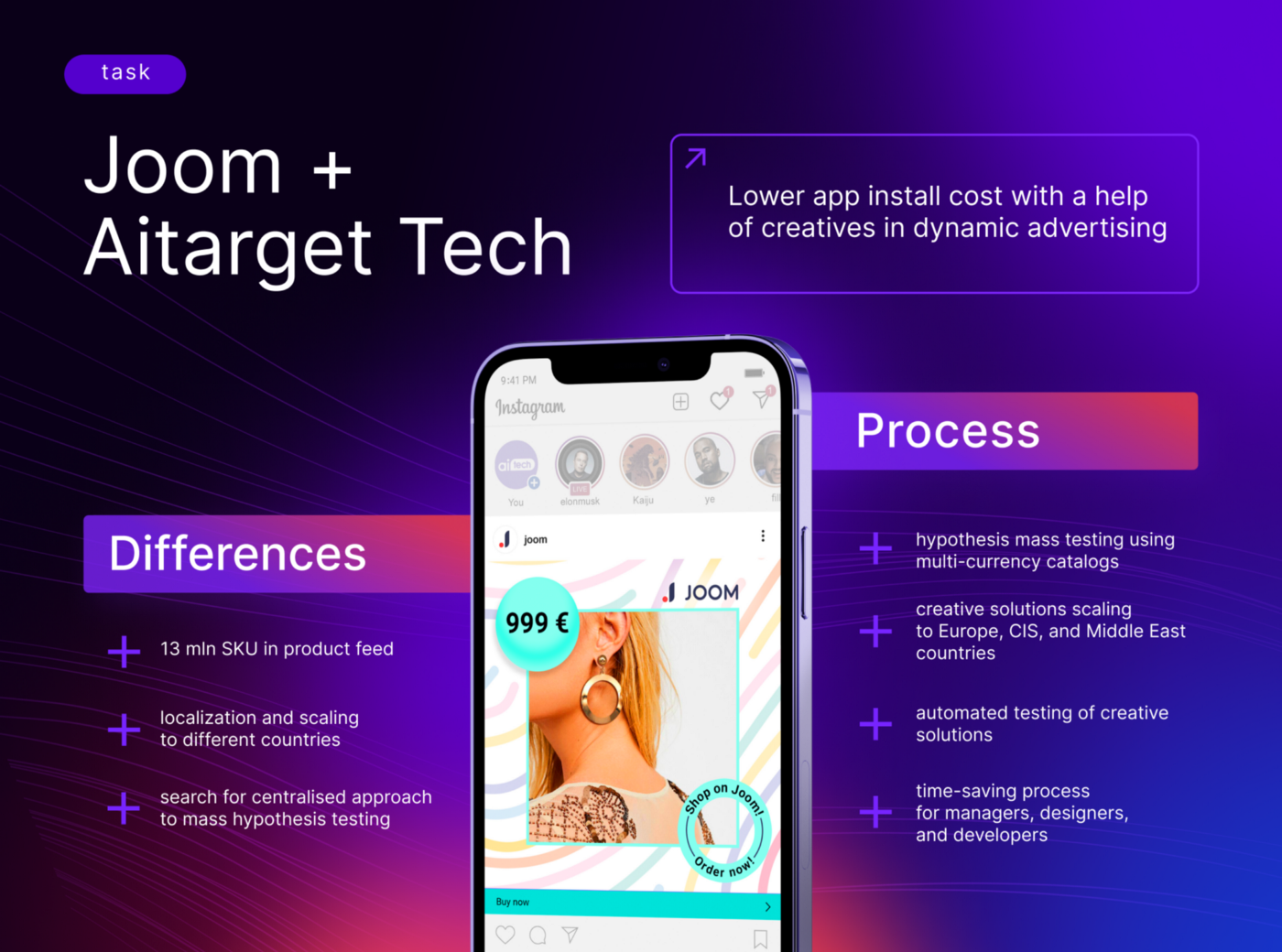 What is tested
There are plenty of categories with multi million SKUs. Goods selected for advertising based on Joom's internal statistics including number of purchases, views, reviews and price compared with substitutes.
Every week the creatives are tested. Those that do not fit the KPI are needed to be quickly replaced. If results of testing are acceptable, new creatives are introduced simultaneously. Joom tests 5–6 creatives monthly. The process is organized through automation and fast development of overlays — templates applied to the original product image, containing dynamically changing data, that highlights its main features.
Creatives were made in Aitarget Tech platform editor. This speeded up the process without overloading designers with additional work.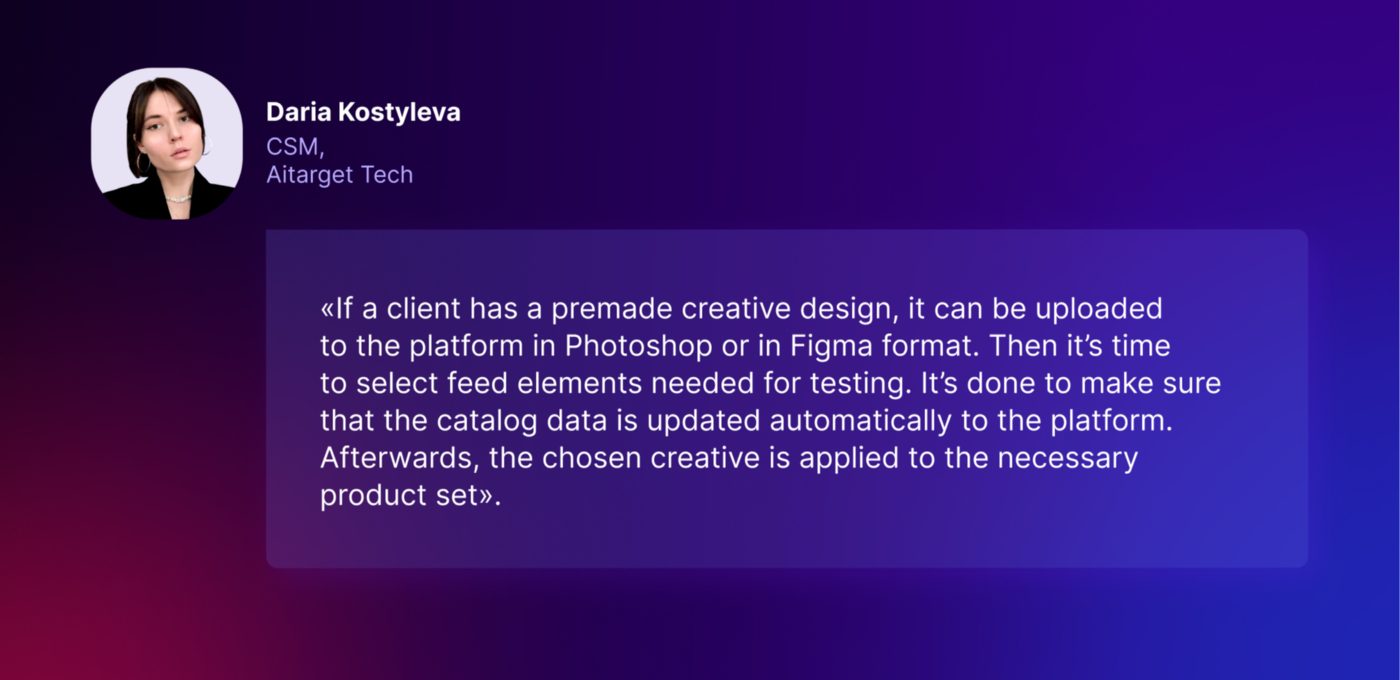 Overlays are applied to product cards, making them more appealing for users.
Price tag on the left lowers CPI
We tested several different creatives to verify the hypothesis that price tag can affect the install cost.
Firstly, we tested the price tag, shape, color, placement and frame around the product. It is hard to believe that only one design element can affect the result, but we have learnt that the price tag placed on the top right corner gives worse performance.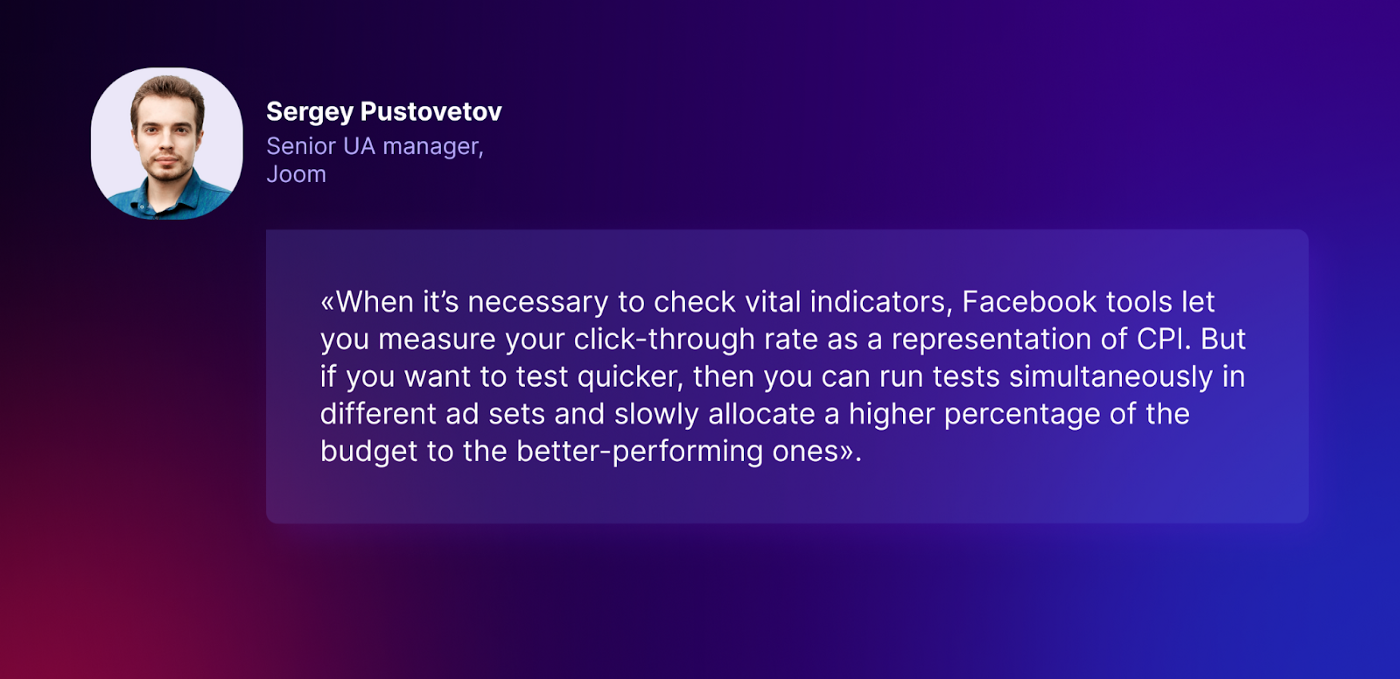 Manner or matter?
Secondly, we tested different price tags. Previous experiments had shown that the top left corner is the best working placement. We decided to keep it there, but change color and shape.
The aim was to replace the standard price tag to a custom one, using different colors, shapes and font sizes. The idea behind that is to emphasize the prices, raise click through rate and lower CPI.
Only one detail — the price that is hard to integrate into a design beautifully has a significant effect on creative performance results.
New experiments show that even tiny details like shape and color of badge sometimes have greater impact on campaign results than its subject.

Localization
Joom is an international marketplace that advertises in many countries. For DPA-advertising we are using catalogs with localized advertising messages. The main challenge is to adapt personalized messages to diverse audiences. For example, words in different languages take different amounts of space on the creative.
In this case the Aitarget Tech platform also helped to adapt overlay design and quickly scale positive results from one market to another, using product feeds,
You can test flags, currency, logos of local payment service providers — any element that helps to identify an application with its country. Also, it can be a tool to test creatives with local celebrities and make collaborations.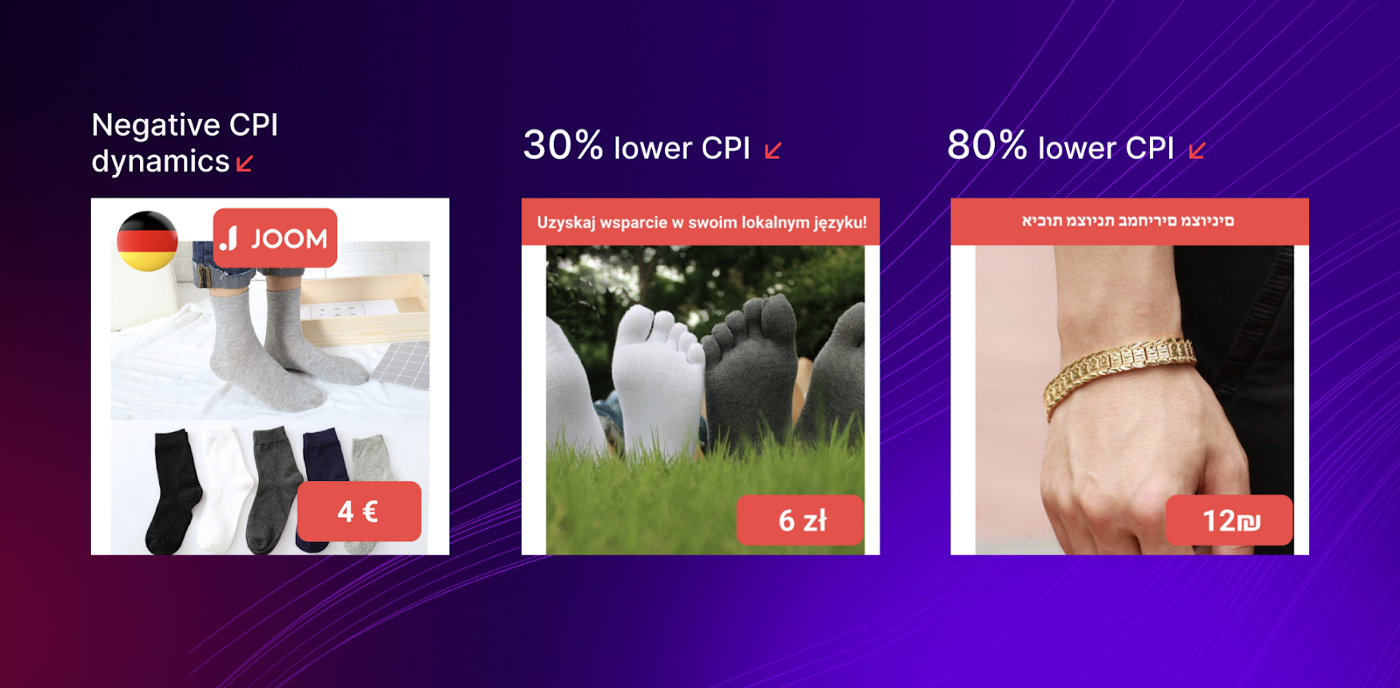 Here we tested flags, currencies and short advertising messages, which helped to lower install cost to 80%. Localization with flags did not work as we had expected, however, it does not mean that it does not work at all. In each particular case you should test and see for yourself.
Results: why an automated approach helps testing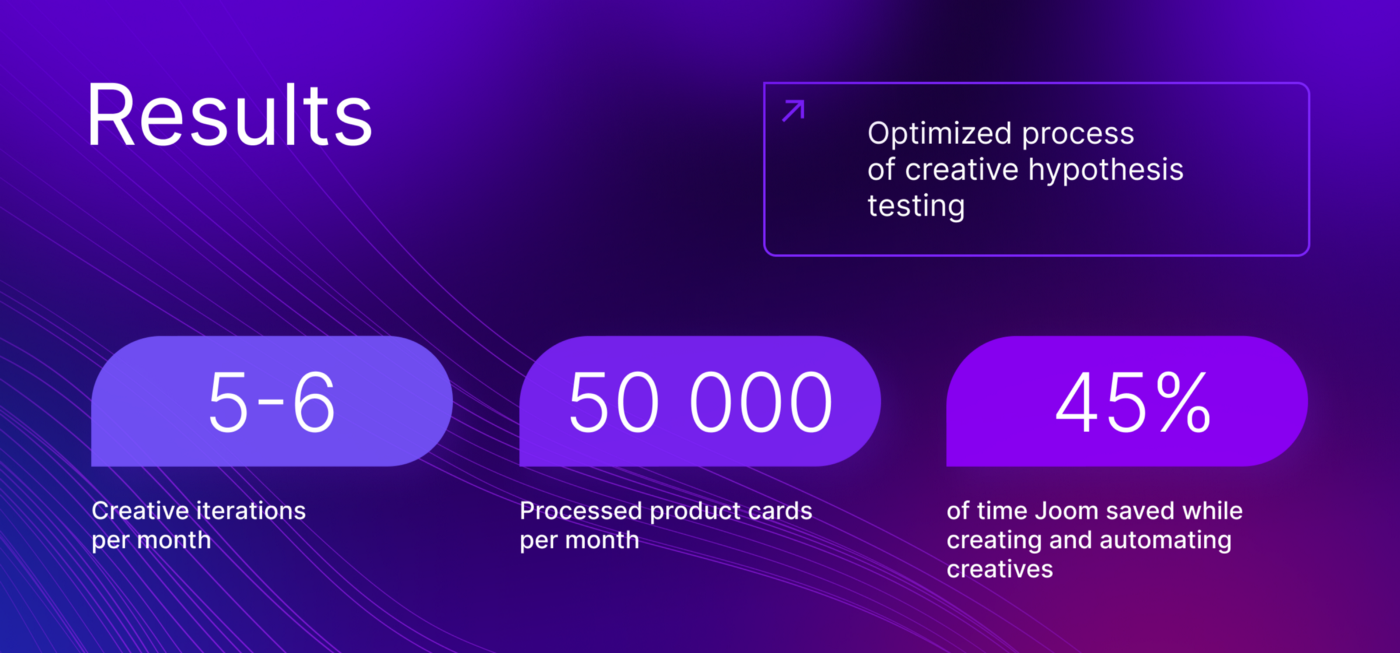 With quick creatives development and their automatic application to product feeds Joom is testing many different hypotheses simultaneously, scaling creative solutions on different markets.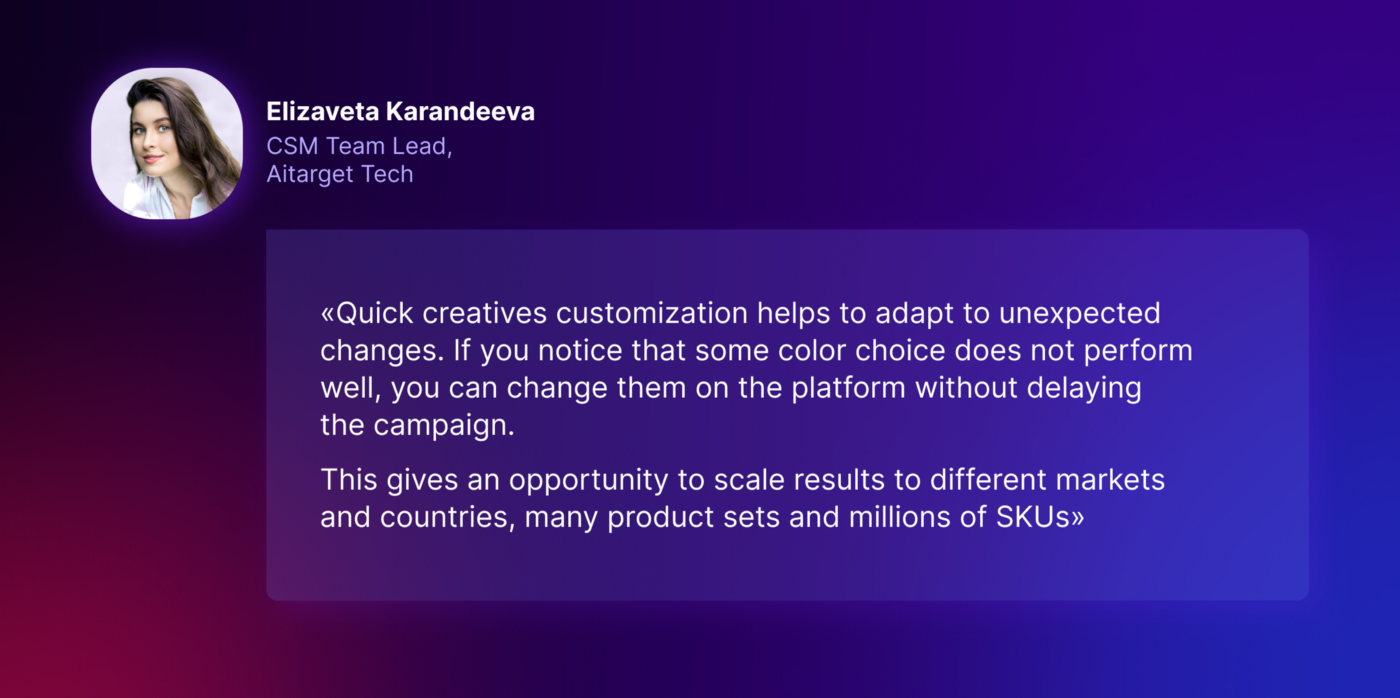 Save time while making creatives and test more hypotheses like Joom – book a call with our team where we will make a short demo of the Aitarget Tech platform and select creatives testing plan based on your business goals.
Learn more on Aitarget Tech website.