When it comes to the most important weeks each year for e-commerce, Christmas and Black Friday battle for the gold medal. But how do you compete, when everyone else is throwing all their efforts into maximizing those opportunities too? Customers are looking, can you connect?
Adidas and Reebok wanted to find the best approach for Facebook promotion at, so they turned to Aitarget Tech, Facebook Marketing Partner, for help.
We not only suggested training, but also took on a significant proportion of the work for their campaigns: reviewing ad account structure, growth hacking, making dynamic ad creatives and implementing new Facebook tools. How did Aitarget Tech do it?
Here we outline the strategies used and the results achieved.
Black Friday looms: One week, is there time?
Preparations for the Adidas and Reebok Black Friday ads started only a week before the launch. The success of the campaign would depend on zero stage work: ad account structure and also the product feed and product catalog adjustments.
First, we reviewed the Adidas and Reebok ad accounts and took action to better set them up for success by restructuring their accounts in order to avoid overlapping audiences.
"At Facebook auction, at any given time, only one ad can succeed over all other ads that target the same audience (it is not important whether it is a single advertiser or many), while the others have to wait their turn. Over time, the highest bidder tends to show better performing ads. Those standing in line aren't able to show Facebook their efficacy, so they will only be shown rarely or not at all. In order to avoid audience overlaps by ad sets and paying twice for your own audience, an ad set's audience should be excluded from one another." – Lisa Leibe, Adidas and Reebok account manager at Aitarget Tech
"The standard approach was to exclude website audiences from the detailed targeting audience. However, we didn't have 100 per cent cross-minuses. Previously, there was more detailed targeting based on interest and CRM, but within the framework of Black Friday, on the advice of the Aitarget team, we tried to replace interests with a Lookalike audience and use a complete cross-minus approach." – Leading Specialist Performance Media, Adidas
The result was that our plan for Black Friday consisted of various types of campaign:
Video creatives and App Install objective – the largest number of creatives and biggest budget;
Dynamic ads for Reebok and Adidas catalog sales;
Video creatives and Conversion (purchase) objective for Reebok – a smaller part.
Our strategy relied on the algorithms in the settings, choosing automatic campaigns and auto-placements, while optimization was set for the most important actions: purchases and installs.
The core of the whole Black Friday campaign was product ads in various formats: Dynamic Ads and multiple videos. All formats were created from images in the Adidas and Reebok product catalogs. Ads buying went through GroupM, part of the world's largest media agency.
Dynamic Ads for multiple audiences
When Black Friday campaigns began, Reebok didn't have any Dynamic Ads campaigns launched. So to prepare for their launch, Aitarget Tech had to help them quickly upgrade and update their product feed and adjust it to a Facebook-friendly format to create a catalog.
"Adidas used to have Dynamic Ads on Facebook as part of their always-on activities, but more recently the format had only been used to support short promo-campaigns in emergency situations. Due to the different budget allocations between the app and website since last year, there was no unified summary of results for Adidas. Yet, this season Dynamic Ads were used for the first time with Reebok, and we are satisfied with the result." – Leading Specialist Performance Media, Adidas
Aitarget Tech was used to create a single brand identity on social media. The platform automatically processed all product images and meshed with feed data, so that users can immediately dive into product, discount and offer in the ads.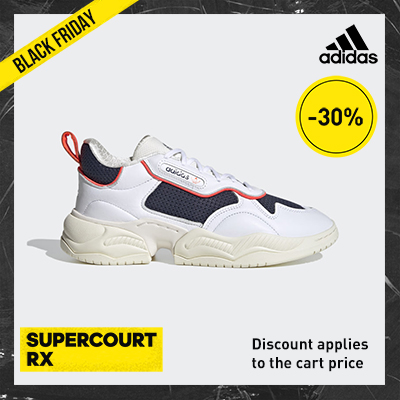 "Overlays are, without a doubt, a blessing for anyone pursuing performance goals by posting on Facebook." – Junior Specialist Performance Media at Adidas
Making the products personal: 51 Videos from 26,000 Product Images
Aitarget Tech's strategy for Adidas and Reebok for the Black Friday video campaign was to split the audience into segments and generate a variety of videos with various product sets.
This allowed us to make the messages each audience received more personal.
Aitarget Tech machine learning found the best position and size for the products and edited the cards. The same feed was used for the Dynamic Ads to create multiple videos.
All of the videos were created using the Aitarget Tech tool based on the feed and branded video templates, developed by the Aitarget Tech creative studio for Adidas and Reebok.
The brands created products lists, which were used for the Black Friday sale. The Aitarget Tech tool automatically generated videos for various audiences.
"A huge thank you to Aitarget Tech for the work they achieved within such a short period of time on creating product videos from our catalogs for both brands. Of course, the time-saving was highly appreciated. Comparisons between videos and statics are quite difficult for Adidas to evaluate within the framework of key metrics, since they use auto-placements, where both static creatives and videos are used. In future, we will try to create a reliable A/B test. We understand that success depends not only on the creatives, but also on the offer itself." – Leading Specialist Performance Media, Adidas
Using new tools to optimize results
For the best video-to-app campaigns block, Aitarget Tech recommended using Facebook Automated App Ads. These are a new Facebook tool for optimal campaign performances. As Facebook explains: "The algorithm finds the best combinations of creatives, audience and placements with no advertiser's presence needed, simplifying the process and maximizing results."
Adidas and Reebok used Facebook Automated App Ads in order to improve the efficiency of video and app installs campaigns. While the automated campaigns were launched with an App Installs objective, they were also good at producing conversions.
"Automated campaigns were a great find for us! Thanks to the Aitarget managers for that. The efficacy of automated campaigns with app installs was very high, not only in terms of CPI, but also in terms of sales. As for our paid media channels, sales share through the app during the promo exceeded the share of sales from the site. I think this is the cumulative effect of both our general Black Friday approach this season and the changes made to our Facebook campaign strategy." – Junior Specialist Performance Media at Adidas
Summary and Results
Overall, the campaign was a success. Not only did it achieve metric results, Adidas and Reebok also saved resources while launching ad campaigns under tight deadlines during high season.
During the campaign Adidas and Reebok saves more than 99 hours on producing creatives, 26,500 product cards were processed and 51 videos were generated.
"Aitarget Tech often conducts training programs on Facebook and Instagram for its clients. Adidas approached us before the big launch on Black Friday, to receive consultation on how to best spend their budget and get optimal results. But in the end, we thoroughly analyzed all of their active placements, helped introduce new Facebook tools into their work, restructured the accounts and helped produce creatives for a large-scale campaign." – Business development specialist at Aitarget Tech.
Save time while making creatives and test more hypotheses like Adidas – book a call with our team where we will make a short demo of the Aitarget Tech platform and select creatives testing plan based on your business goals.
Learn more on Aitarget Tech website.