Advertising on Instagram has its challenges. You may be struggling with creating compelling visuals while keeping costs down. You may be searching for a way to scale and monitor your ad campaigns without hiring new media buyers. You might have hit roadblocks in increasing the efficiency of your campaigns and attaining your KPIs.
We can help solve many problems that you're facing with Instagram advertising by helping to: 
Create videos and overlays from product feeds (suitable for E-Commerce, Travel, Auto, Trading, and other verticals); 

Incorporate data from third-party sources into dynamically updated Instagram creatives;

Test different creative designs and messages to find out what works best; 

Implement rules-based automation strategies. 
We are a Facebook and Instagram marketing partner. Our team consists of dozens of experts who have poured over 75,000 hours into developing our unique suite of tools. We have collaborated on notable projects for brands such as LG, Adidas, and L'Oreal. 
But today is not all about us. It's all about what we can do for you. You'll be getting a full introduction to Aitarget's tools for advertising on Instagram: 
Overview of Instagram Ads tools
The heart of any Instagram campaign is the message you want to convey. Now, Instagram presents you with various engaging formats to pass your message. Let's take a look at what they are and the opportunities that exist. 
Photo Ads
With single image ads, it's all about capturing the viewer's attention and connecting with them on a personal level. So, the biggest challenge marketers face is creating visually appealing and personalized creatives. 
If you have a few products to promote, it may be less challenging to pull this off. But what happens if you have dozens, hundreds, or thousands of products to show off to your potential audience? 
How we can help with photo Instagram ads
We have an effective solution for brands with many items to promote. You can use your existing brand assets, including images from your product feed, to create data-infused overlays. The overlays can incorporate information such as pricing, labels, and discounts.
Rather than manually creating visuals for every item, you start with one smart template that contains variable inputs. Our tool can dynamically update and re-upload your creatives as the information changes. 
Don't worry if your product feed is not optimized for overlays. We can help customize and prepare the product catalog to function as a data source for dynamic ads.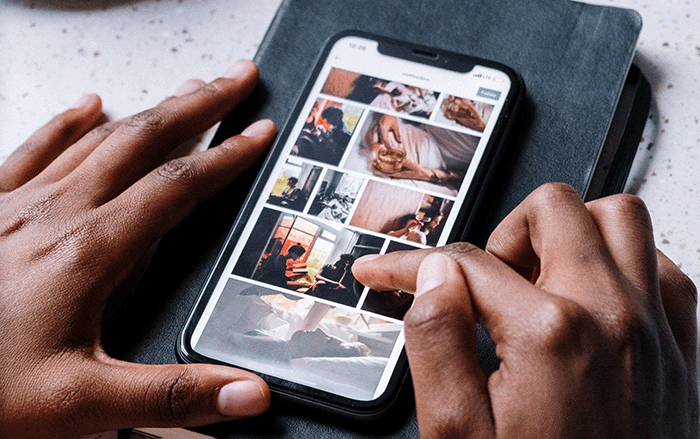 Carousel Ads for Instagram Stories
We have been big fans of Instagram stories carousels since Facebook introduced the format for advertisers in 2018. It has consistently delivered excellent results in previous ad campaigns.
For instance, in a brand awareness campaign by FBS, using a 3-card carousel in Instagram stories resulted in CPA dropping and conversions doubling. MegaFon similarly saw their CTR results tripling and their CPC reducing. 
Why is it effective? The carousel format for Instagram stories works because of its powerful storytelling capabilities. For instance, the first and second image or video can introduce the brand, present the problem, and build up excitement. The third card can offer the solution: the advertiser's product + CTA. 
How we can help with Instagram stories carousel 
We empower you to create more meaningful feed-based videos by using first-party and third-party data to incorporate a bit of storytelling. For instance, you may start your ad campaign for winter accessories by first showing the latest weather data for a particular city. 
You can then have a video showing the most popular winter accessories from your product set. Your third slide may be a call to action with your latest discount. 
With weather data constantly changing, Aitarget can keep generating updated creatives. The creatives can be highly personalized for different audiences in different cities. Instagram even expanded the number of cards for carousels from 3 to 10. The possibilities are now limitless. 
Additional ad formats
Aitarget's creative Instagram advertising solutions are applicable for other formats such as collection ads, shopping ads, reels ads, single video ads, and IGTV ads (*not available for all regions). For instance, you can personalize your shopping ad by incorporating a map that shows users your nearest store based on their location. You can create single videos from product images and info. 
How to advertise on Instagram
You start advertising on Instagram by selecting your objective. There are three main campaign objectives: increasing awareness, generating leads, installs, or visitors, or driving conversions. 
The second key aspect of campaign setup is specifying your budget and schedule. Facebook's algorithms can help in optimizing the delivery of Instagram ads based on your budget. 
Audience targeting is usually the third step in setting up Instagram ads. You can now create custom audiences by gathering information about your website visitors. Facebook offers the Dynamic Creative tool to help you test different ad variations such as the CTAs, text, or images to find out what's performing best.
The fourth step is choosing the ad placement. Facebook can help out here with automatic placements based on where the ad may perform best. Because Facebook owns Instagram, ads may be shown on the two platforms and Messenger. 
The last part of advertising on Instagram involves creating the actual ads. Ads are typically structured as single images or videos, carousel, or collections. You can track conversions by installing Facebook Pixel on your website, and this offers additional insights into actions people take once they click on your links. 
The role of Aitarget is to build on and enhance the capabilities of Facebook's algorithms and tools, not to replace them. 
Engage, Measure, Optimize Your Instagram Ads with Aitarget Solutions
The tools we offer and how they can help you to engage, measure, and optimize your Instagram ad: 
Engagement tools: E-Commerce Tool & Video Tool
Our e-commerce tool is the go-to solution for creating promotional videos or overlays based on assets in your product catalog. 
You'll not be working from scratch. We have a collection of templates following proven design strategies. You'll have access to different colors, fonts, and effects. 
We don't just leave you here. You can develop several creative variations, and our AI algorithm can facilitate testing to see what works best with different target audiences. Say goodbye to boring static product ads and guesswork. 
 Aitarget video tool expands the capabilities of the e-commerce tool. It allows for the enhanced personalization of videos. Your videos can now target audiences based on their interests, demographics, language, country, etc., with less effort. 
Generate videos for hundreds of products while incorporating third-party data. They will be tailored for different placement options, not only for Instagram but for other platforms such as Snapchat or Youtube. You retain complete control over the final result. If you imagine it, you can do it. 
Measurement & monitoring tools: Dashboard & QModeration
Connect Aitarget to your ads manager and receive metrics about your omnichannel campaigns on one simple dashboard. It supports notifications, allowing you to track changes on automated campaigns. It also generates automatic and curated reports. Our solution can integrate with about 200 CRMs for custom reporting. 

Our moderation tool makes it easier to manage comments from multiple ads, watch for reactions, and delete unwanted posts., 
Optimization tools: Creative improvement 
Do you often have to guess what colors or fonts will work best with your creative ads? Do you waste a lot of time implementing design changes after tests? Well, that changes today. You can have various creative variations tested under the hood without much involvement on your part. Our closed-loop solution can even upgrade your creatives to boost their efficiency. 
You will not be left alone to figure out the platform. Our smart and capable team is always on hand to help define your campaign objectives and tailor solutions to help you resolve your biggest pain points. You get custom pricing for our e-commerce tool, depending on the number of product SKUs you need to promote. 

Boost Your Marketing with Instagram Advertising Automation
Make Instagram advertising less of a chore with our automation solution. 
It is targeted at campaign management and allows you to automate tasks such as analytics & reporting, bid management, performance tracking, split testing, or duplication of ad sets. 
Why automate your campaign management? You can save a lot of time and effort spent checking and responding to changes. All you need to do is set up custom rules and responses in our tool kit. Automation will be essential if you want to scale your ad campaigns without hiring media buyers to manage them. For instance, we helped TwoDots, a gaming studio, scale its campaigns in new geographic regions while minimizing the need for new hires. 
Many brands also create playbooks to cut the poor performers early and scale the best-performing ad sets. Automation can help optimize your bidding and budget spent following ROAS-based rules and other complex strategies. 
The Facebook ads manager natively supports automation. Why use an external third-party solution such as AItarget? One key function that's not available in Facebook's ruleset toolkit is the ability to set up an Announcement rotation. 
This testing strategy is applied when testing many creatives one after another to minimize competition between similar creative ads in the Facebook ads auction. For instance, if you have 100 videos to test, you set up automatic rules that specify the sequence of running the ads. You can specify that an ad set should be turned off after achieving a certain number of impressions. After the testing phase, you can use metrics such as the CTR to determine the efficiency of each ad set and continue showing the best-performing ads. 
We pulled off this automation strategy during a campaign for OBI, one of the largest players in the European DIY market. Using our e-commerce tool, the team generated about 100 videos from selected product categories, following a branded ad template. Videos were automatically loaded to the ads manager for testing. The campaign lasted for two weeks. It would otherwise be time-consuming to execute, owing to the number of creatives tested. 
Our team can also work with you to uncover inefficiencies that automation may address if you're new to campaign automation.